ADDITIONAL HOUSING COSTS ARE AN IMPORTANT FACTOR AT PUCHASE OF AN VACATION HOUSE FOR MANY BUYERS. BECAUSE OF THE ABSENCE OF THE MOST OWNERS; THEY CAN NOT CONTROL AND MAINTAIN THE VACATION HOUSE AT THEMSELVES, BUT THEY ALSO TRY TO DEFRAY THE ADDITIONAL COSTS, THEY DECIDE TO LET THEM HOUSE MAINTAINING AND LETTING BY OTHER.
HERE YOU CAN FIND A LISTING OF THE TYPICAL ACCRUING COSTS FOR A HOUSE.
THE ENCLOSED TABLE SHOULD GIVE YOU A LITTLE OVERVIEW ABOUT THE POSSIBLE COSTS:
house management service

ca. $ 130

per month

pool service

ca. $ 75

per month

service for cut the lawn

ca. $ 75

per month

service for dung the lawn

ca. $ 50

per month

service for spraying the vermins

ca. $ 100

per quarter

electricity (dependent on consumption)

ca. $100-250

per month

water (two person household)

ca. $ 80

per month

insurance for deluge

ca. $ 300-700

per year

rates (dependent on building/
plot value)

ca. 1,5-2,5%

per year
WHICH COSTS DO YOU HAVE FOR A CLEAN BUILDING PLOT?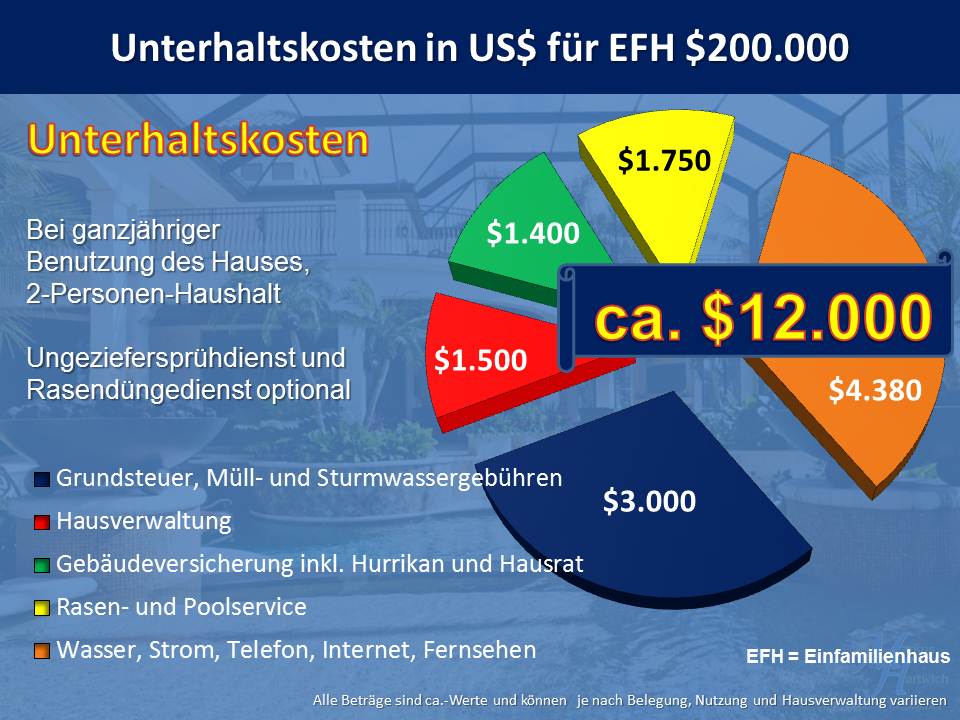 (Quelle Grafik: M.Hartwich/Gulf Gataway/CapeCoral/Florida)